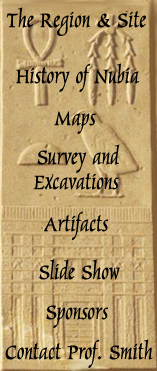 Now part of Egypt and Sudan, Nubia stretches from the First Cataract to the Shabaluqa Gorge (Sixth Cataract), not far from the confluence of the Blue and white Nile at Khartoum. The Second Cataract, near the modern Egyptian-Sudanese border, divides Nubia into Lower Nubia (north) and Upper Nubia (south). Situated at the end of the barren Batn el-Hagar (Belly of the Rock), the Third Cataract's rugged terrain and treacherous rapids formed a natural northern gateway to the fertile Dongola Reach, and thus an important strategic point of control for Nubians and Egyptians. It was also the location of a granite quarry providing the raw material for monumental construction blocks and colossal statues, one of which remains in situ.

The Sudan once had an almost pristine archaeological record. Today all of these sites are endangered by the rapid expansion of settlement and cultivation, making their documentation and excavation imperative. If this important work is not undertaken today, there will soon be little left outside of the principal monuments of the region.

For more information, please investigate the links in the menu at the left. Another website of interest is the Mahas Survey Project of the University of Khartoum and the British Institute in Eastern Africa.

The Dongola Reach Expedition is part of the UCSB Mediterranean Archaeology Consortium.